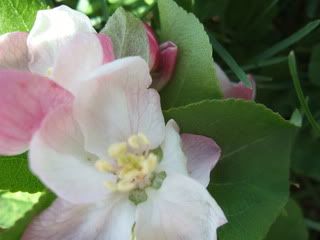 I love apple blossoms. They are so delicate, and sweet. So pretty and speak so many things to our lives.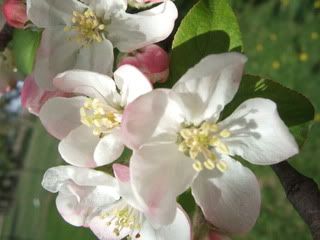 They are food for the wonderful bees that then bring us honey to enjoy. They create a sight that is like no other. The color they provide after the cold and long winters is always welcome. Then as the year progress's they turn to apples. A fruit when preserved properly can help to feed us the rest of the year.
Our tree is in full bloom right now and with it being right next to my clothes line I get to enjoy it every time I am outside. I am sad right now tho as I have not seem many bees on it to pollinate them. Without those hard working bees we will have no apples and the honey this year will be limited.
This is very saddening to me on so many levels. Our bee population has been hurt so badly in the last few years and I hope that we are able to bring them back. Without them our food supply will be in such jeopardy. We try to eat as much locally as we can when it is available and that isn't possible when we are unable to care for the trees and plants that available.
I have to say that I am really hoping that I am just not seeing them because it is going to hugely affect what I have for my family this year not only with the apples, but also the strawberries, blackberries and raspberries. Plus the garden will be going in soon and we need them there as well. It has made me realize that in the next couple years I need to learn more about bees and do my part in helping to preserve them.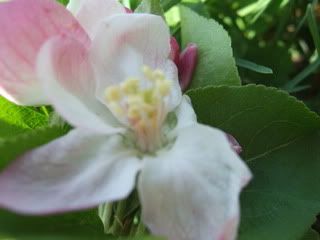 We also need to get the word out that pesticides are killing them off. I really don't want to see my poor apple blossoms left to be lonely this year or any year there after.
Oh and lets all hope for no late frosts this year because that will be horrible for our crop as well. We lost all of our apples last year to the hail storm and I am greatly looking forward to enjoying these apples this year.