Yet another sign that spring is upon us. Yesterday one of our farm cats had her kittens. Not that we were in need of more kittens but it is also something that we have little control over.
They are so incredibly cute and mama is doing so wonderful. We did try to move her and her kittens to a "safer" location because otherwise one of our dogs likes to go find kittys, but she was having no part in that and as soon as we left the barn, promptly moved them back to where she deemed a nice location. SO we have added another fence panel to stop the dogs, and young children from entering the barn uninvited.
So our patch had 5 beautiful babys, first was an adorable yellow/orange, then came a all black baby, we then added one that was black and white, followed by another all black and finished up with the most beautiful calico just like mommy.
They will be a wonderful addition to our mousers on the farm and the kids will enjoy playing with them through the summer.
Here is mommy with her babies (doesn't she look annoyed with the camera!)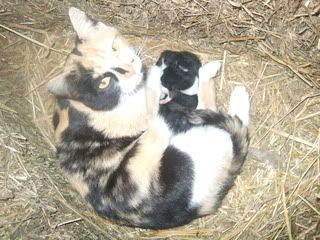 Next is a couple shots with mama out of the picture.