Well we have been busy here on the farm the last few days. We had to finish making preparations for the 100 meat chickens that arrived this am. Man are they ever cute.
We got a ring and a cover to put the lights in set up and put in ground up corn stalks for bedding. The corn stalks are working great, nice for the bottom but also no so small they get it stuck all over them!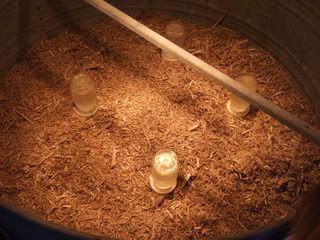 Then we put in 4 waters for them, they are quart size jars and this is what we have found works best when they are so small.
They had a longer trip than was planned, the USPS dropped them off at the wrong post office this am and they had to go back and get them to bring to our post office. Poor little things had a busy second day of life I'd say.
When we got them here we took them out one at a time, showing the kids the babies and then dipped their beaks in the water so that they knew it was there. They were all drinking like crazy after their long ride. In all they drank nearly a gallon of water today and ate almost 1/2 a gallon of feed. I can only imagine what they will eat before its all said and done!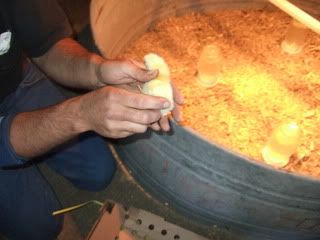 The hatchery puts in a few extra to make sure that there is the right number when they arrive as there are times that a couple don't make it on their trip, however they all made it on the voyage and we are now the proud owners of 103 baby chicks. And in 7 weeks they will go to the locker and we will have ours and many others dinners for the year!
Besides that I have been busy sewing up a dress for the oldest Preschool Graduation next week. I can not believe my baby girl will be starting school this fall. More to come later on that, she was so grubby from playing in the water, sand, dirt and of course mud that I was not about to try to get some cute pictures in it.
We also were able to finally get the flowers in the ground we bought a week ago and the flower bed is coming along nicely. I will post some pictures of that soon.
As a parting note I could not resist this beautiful sunset we had a couple of days ago and thought I would share. It is always so relaxing to watch the sun set on a beautiful day.