Tonight I decided that we were going to have Baking chicken for dinner. In part because I love using my new Le Creuset Cookware. If you have not seen it, check it out. It really is the best! I picked the Kiwi green color which is so pretty and very springy!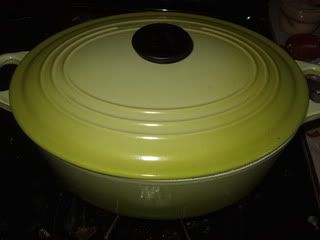 So back to dinner....
I put the whole chicken in the dutch oven and cooked it at 350 for about 3 hours with about a cup of water and a poultry seasoning my brother and sister in law gave us for Christmas. After that time I added a bag of baby carrots and turned the heat down to finish cooking until dinner time.
I then made up some homemade garlic mashed potatoes with cream cheese and home frozen sweet corn. It was delish!!! Oh and we added some fried up morel mushrooms to finish it off, the last of the season and they were so yummy.
The kids enjoyed it and Carter made a huge mess with the mashed potatoes.
All in all it was a huge success.