So I decided that I wanted an apron for wearing when I am working around the house and farm, but after looking all over the internet and through all my patterns I could not find exactly what I wanted. Well that didn't stop me, just made me think harder and decided that I would make it up on my own and share with everyone so if they wanted one as well they too could make one!
Now I am going to preface this by saying that I have never done a tutorial before but I tried to take lots of pictures so you can see what I did. Also I purposely did not include any measurements because I didn't want my measurements to limit you. I decided what I needed by measuring what I would be carrying and going from there. My biggest thing I needed to have safe was my phone that is always with me.
With that, I will start.
First off TURN ON YOUR IRON. I hate using the iron but it really is one of my dearest friends when it comes to sewing.
I took measurements of where I wanted the apron to sit, for me it was hip to hip from the front, then I measured my phone so that I had a pocket to carry it in. From there I went a couple inches smaller for the front pocket. I also cut strips for the waistband and the ruffles at this time. For me I was able to cut 2 strips the width of the fabric for each and it was plenty.
Here are all the pieces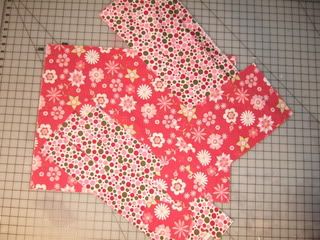 From there I took my pockets and went to the iron. I folded in the edges for the hem and ironed them down.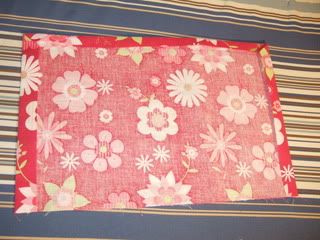 I like to add a stay stitch with a loose straight stitch on my machine to be sure that they don't move on me but that is totally up to you.
Next I added some elastic lace to the top of the small phone pocket to gather it up. Regular elastic would work just fine, I wanted the added frill to the apron for me.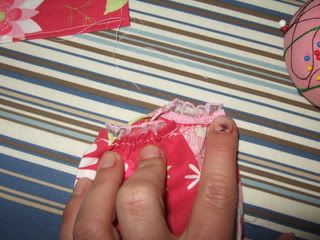 I also added the same lace elastic to the bottom of the pocket, without stretching so that it did not gather there for the frill.
I then sewed on the smaller pocket to the front of the larger pocket. Be sure not to stretch the top of the smaller phone pocket when you pin it on or it won't gather the way you are wanting it to.
My next step was to add the ruffle. I like the look of a clean pleated ruffle, you can also use a ruffler foot for your sewing machine or do 2 straight stitches and gather it that way but you will need more fabric or that. So I pinned on my ruffle.
For mine I made the ruffle wide enough to fold in half and pin it to the apron front with right sides together. This gives a clean edge that I don't have to hem up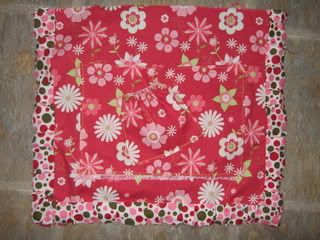 Next up was adding the waistband. I sewed my 2 pieces of waistband together, folded them right sides together and ironed them. I then sewed it together into a tube and turned it right side out. I also ran the top of my apron thru my serger to avoid it unraveling on me. Then I pined the waistband to the top of the apron, starting at the middle of each and working out.
I sewed them together, and went back through and topstitched all of my edges for a nice finished look.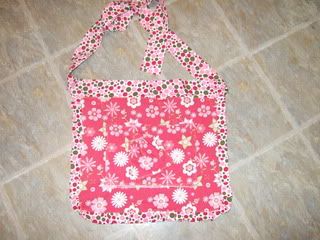 Once finished I added 2 snaps to the hip of the waistband. I will now get a couple of hand towels that match the apron and add snaps to it so I can snap the towels to the apron and always have one with me.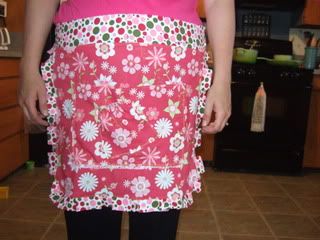 I hope you enjoyed and this is able to help someone with an apron that is just right for them as well.