Yesterday we decided that since Daddy took the day off from work. One thing that the girls are always asking to do is have a picnic and play at the park, so with a beautiful day and all of us home, what better day could we ask for.
So I fried up the last chicken we have in the freezer (for now, but not for long) and made a bowl of potato salad. We took juice and iced tea along to drink and a blanket to sit on and away we went. The kids had so much fun and so did mom and dad.
After we finished eating we played on the playground.
Carter has absolutely no fear. There is one slide that is way up there, it is probably 10 to 12 feet in the air and he loved it.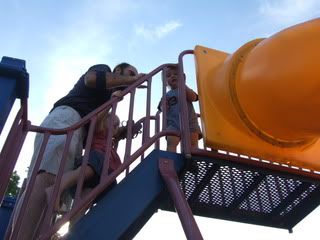 We spent a lot of our time playing on this slide and it was so fun to see the smiles from the kids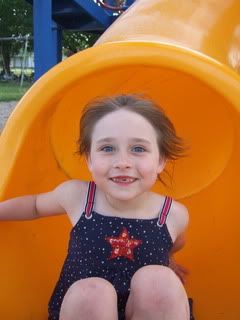 From there we decided to add to the treat of the evening and went to the local Ice Cream shop Sweet Treats. They have all homemade ice creams and it is just wonderful!!
Carter had his first cone all by himself and he was in heaven!
They all enjoy swinging on their swing before we leave and always do.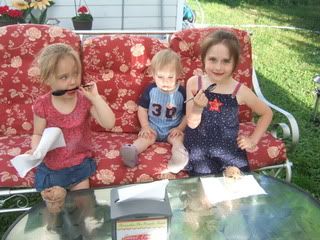 It was an all around great day. We were able to finish up some things on the farm, There is now new entries into the barn, we were able to burn the large pile of tree debris from our hail storm last summer and laundry washed and dried on the line. Plus I was able to to get most of a dress sewn up for Nevaeh, but thats a whole nother post that will come later.